For ChicoBag, 2022 is the year of celebrating the good all around us. We kicked off the year highlighting big wins for the planet, followed by an exciting new product print and a brand new President! Now, with the season changing, it is the perfect time to share some of the great work other companies are doing that are "spring"ing in to action and doing great things in the world!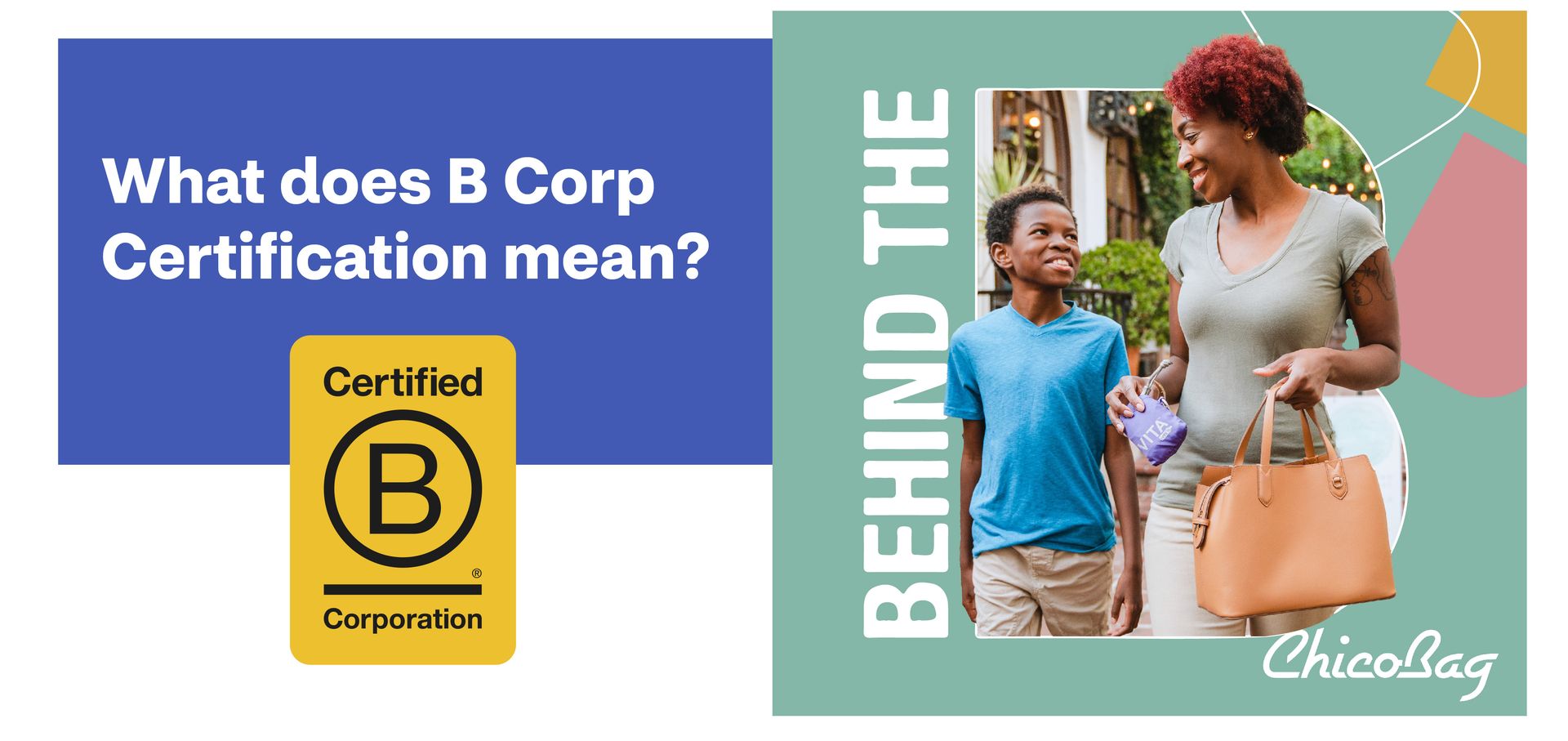 First up: some fellow BCorp businesses!
ChicoBag has beena certified B corporation for 9 years, and we're proud to stand alongside other businesses going the extra mile not just for their customers, but for their employees and the planet, too.
B-Corp Leader Superstars

More and more companies are jumping on board and getting B-corp certified. You may even recognize some of these eco-champs in your own home or office.
Here are a few of our faves:

Birth of a Beer Company
This Colorado-headquartered company has been producing fine beer for over three decades. Launched by co-founders Kim Jordan and Jeff Lebesch, New Belgium Brewing Company was inspired by beers they tasted on a bike trip in Belgium in 1988.
Brands:
Fat Tire Amber Ale and Voodoo Ranger, among others
Good Deeds
New Belgium's "human-powered" company mission is to be a "brewery for good" and put people, community, and the environment first. And based on their long track record, they've put their money behind those mottos, especially where B corp is concerned.
Gold Stars
To give you an idea of how much of an overachiever they are, a good median business score on the B Corp metric is 50, and to be eligible for B Corp you need an 80 or higher. Belgium Brewing Company has a rockstar score of 136. They've made the "Best for the World 2021: Workers" list, and "Best for the World 2021: Environment" list as a top performer.  
Future Goals
In real world terms, one of Belgium Brewing's commitments is to make all of their beers carbon neutral by 2030.

Who are they?
Doing Good Works is a full-service print, promotional clothing merchandise, and packaging company located in Orange County, California. Operating under the tagline "Using Business as a Force for Good," they strive to find a balance of profit and purpose.
What they do:
With a "family of businesses" including DGW branded, Purpose Printery, and Foster Greatness, the company provides a wide range of services from custom apparel, bags, printed products, and drinkware.
Sharing is Caring
Doing Good Works fosters a "culture of caring" within their company, and has based their business on a 10/20/30 model. They take 10% of profits to fund empowerment and scholar programs for foster youth pursuing higher education. And 20% of employee hours are dedicated towards volunteer work of their choice, while 30% of their new hires come from the foster community.

History
Eileen Fisher entered the world of fashion back in 1984 with only $350 and four garments in a New York boutique show. Inspired by the elegance and utilitarian functionality of the Japanese kimono, she endeavored to create clothing with similar clean lines and functionality. Almost 40 years later, the company has become synonymous with timeless, simple-but-luxe clothing, along with its commitment to sustainability.
An Unconventional Model
When building her company, Eileen saw an opportunity to step away from a typical model where the profits don't just float to the top. Instead, she implemented employee profit-sharing and part ownership opportunities that benefit the people who work there.
Sustainable Clothing
Eileen Fisher uses sustainable fibers like recycled nylon, polyester, and cashmere along with responsible and regenerative wool, organic cotton and linen. The company's goal is to close the loop on manufacturing through programs like Waste No More and Renew which take their clothes back and remake them into new designs.
As Eileen herself says: "We don't want sustainability to be our edge, we want it to be universal."

The Concept
TerraCarbon helps compensate for human and industrial activities by developing and selling carbon offsets to companies and individuals, giving them the opportunity to become  climate neutral.
Results
A recent 2021 winner of the B Corp Best for the World: Environment, TerraCarbon's model is based on funding nature-based climate solutions. Founded in 2006 byScott Settelmyer and Dr. Bernhard Schlamadinger, their combined backgrounds as the former CEO of the Chicago Climate change and one of the world's top forest carbon experts gave them a unique vantage point. And so far, they've helped save over 5 million acres of working and natural lands through TerraCarbon.
B Corp
TerraCarbon became a Certified B Corp in 2012 to "demonstrate that our business has a higher purpose than simply profit, and that is contributing to the protection of the world's forests for the benefit of the world's climate, wildlife, and people.​"

A Shoe Story
Created in 2006 by Blake Mycoskie, TOMS produces shoes, coffee, eyewear, apparel and handbags. The company is known for its"One for one" program with its famous canvas slip-on shoes, where TOMS donates one pair of shoes for each pair sold. TOMS also donates ⅓ of their profits to non-profit organizations around the world.
Sustainable Goals
After recently doubling their B Corp score,  TOMS announced they would work to increase it even more. They source their current packaging from sustainably managed forests and make it with at least 80% recycled materials. TOMS uses Earthwise™ materials like  Repreverecycled polyester which is made from post-consumer plastic water bottles. And their product goals include sourcing 100% sustainable cotton by 2025.
With the launch of TOMS Roasting Co. in 2014, the company has expanded its goals to provide clean water to families in coffee roasting regions that need it.
Learn More About B Corp Members

This March, explore other B Corp businesses and get to know some of the local ones in your area. Supporting them could encourage more companies to become B Corp and help the environment.