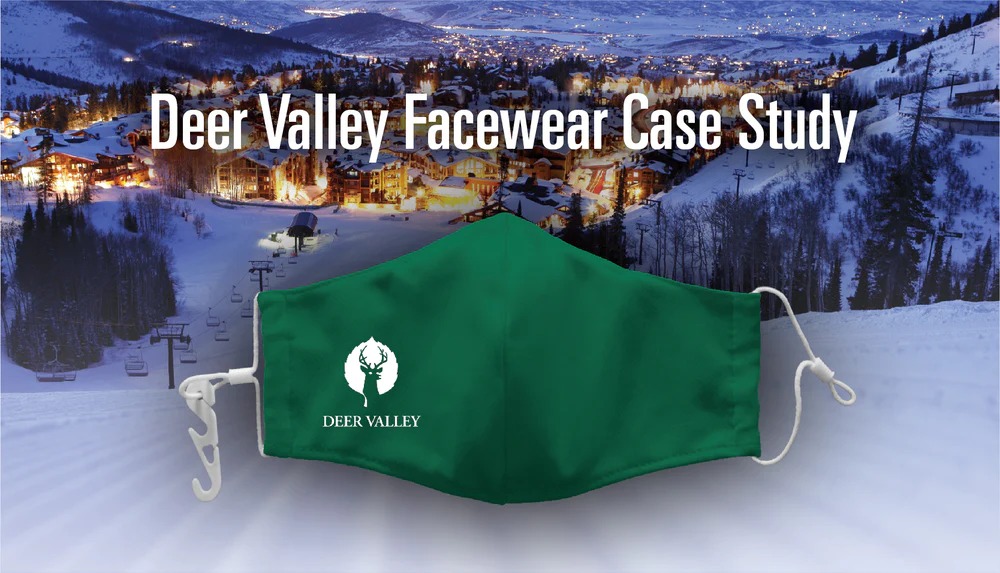 Custom Reusable Face Masks Helped This Resort Keep Over 4 million Disposable Masks Out of the Waste Stream
THE CLIENT: DEER VALLEY RESORT
Welcome to a world of elegance and unmatched natural beauty: Deer Valley Resort in Park City, Utah.  Known for its premier guest experience, the resort was founded in 1981 as an elite ski destination for luxury accommodation, gourmet food, and unparalleled guest service. Deer Valley Resort adheres to the highest standards possible in every area of operations, including the custom reusable face masks it needed to keep staff and employees safe.
---
---
THE CHALLENGE: STAYING SUSTAINABLE DURING A PANDEMIC
At Deer Valley, first-class quality also means first-class sustainability. Commitment to environmental protection comes to life in practices like resort-wide recycling and composting, eco-friendly land stewardship, advocacy, and investments in alternative energy. Sustainable purchasing is also top priority. 
When the pandemic hit, Deer Valley knew these values were important to uphold.  Georgia Anderson knew there was one essential purchase:  custom reusable face masks. 
As Director of Merchandising and Logo Licensing, Anderson has been with Deer Valley Resort for over 40 years, a true testament to the passion and service behind the brand. To open for their summer 2020 season, masks were a priority--and she knew disposable styles weren't in line with Deer Valley's sustainability or quality standards.
Her facemask criteria: A sustainable, reusable solution with Deer Valley quality.
"Deer Valley prides itself on  attention to detail," she said, reiterating her long-held values. "[A purchase] needs to reflect what Deer Valley Resort stands for in terms of quality and design."
The Solution: ChicoBag Reusable Facewear
By early April 2020, Anderson's email inbox was filled with branded facewear options, but one stood out from the rest: an email from Ashley at ChicoBag.
"I started getting inundated with people selling masks," Anderson said. "When Ashley reached out, I asked for samples of ChicoBag custom reusable face masks." On receipt, she loved the details like the double wire on the nose, the filter pouch, the ear hook, and the high quality results of the  sublimation dye process used for printing and extend the life of the product. 

"We really liked the presentation and the design from ChicoBag. The whole program was quality-based."
Ashley and Anderson first connected several years' prior, when Deer Valley Resort invested in ChicoBag merchandise for gifts, guest giveaways, and events. Reusable bags were just becoming more popular, and Deer Valley realized the importance of including sustainable products in their merchandising purchases.
"We've always appreciated that sustainability has always been a part of ChicoBag's corporate culture and philosophy," Anderson said. "That certainly makes their products appealing to us."
When Ashley shared how  ChicoBag Reusable Face Masks eliminate the need for single-use masks, protect animals from entanglement, and  help protect against COVID-19, Anderson realized they were the right fit for Deer Valley staff needs. 
She placed the first order for staff facewear in the beginning of May 2020. They opted for a simple tan design and small logo. "At the time, we thought everybody wanted masks to be discreet. But now, masks are a statement piece, like t-shirts! We ended up changing the staff masks to be a bolder Deer Valley Green. The employees love it being a special design just for them. It's a uniform piece."
Since the initial purchase, Anderson has placed several more ChicoBag custom reusable face mask orders to take the staff through the 2021 summer season.  "We appreciate the philosophy of ChicoBag," said Anderson. "They've been great at communication. We deal with a lot of different vendors, and I trust what I'm hearing about the company is correct. The support, information flow, and the response team has been fantastic."
The Results: First-Class Quality & Sustainability
4 Million Masks Diverted from the Landfill (& Saved Money)
Since summer of 2020, Anderson and her team have issued approximately 8,000 custom reusable face masks to their part-time and full-time employees. Each mask replaces at least 547 disposable ones over the course of its lifetime. 
547 x 8000 = 4,376,000 
By choosing custom reusable face masks, Deer Valley will be keeping over 4 million disposable ones out of the waste stream. 
They also saved money. "Not only are we helping the environment by reducing waste," Anderson said, "but it also ended up being a cost savings." 
Boosted Guest Loyalty (& New Revenue Options)
An unexpected bonus? Guests want to buy the face masks! "We ended up selling the tan ones to guests because we had such demand!" 
Assisted Other Resorts (& Increased Advocacy)
Deer Valley didn't stop at sustainable practices on its own property: Anderson spread the word about ChicoBag facewear. "We absolutely recommend ChicoBag custom reusable face masks to other resorts and our contacts in the business. I gave out Ashley's contact information to several people over the summer and fall!"