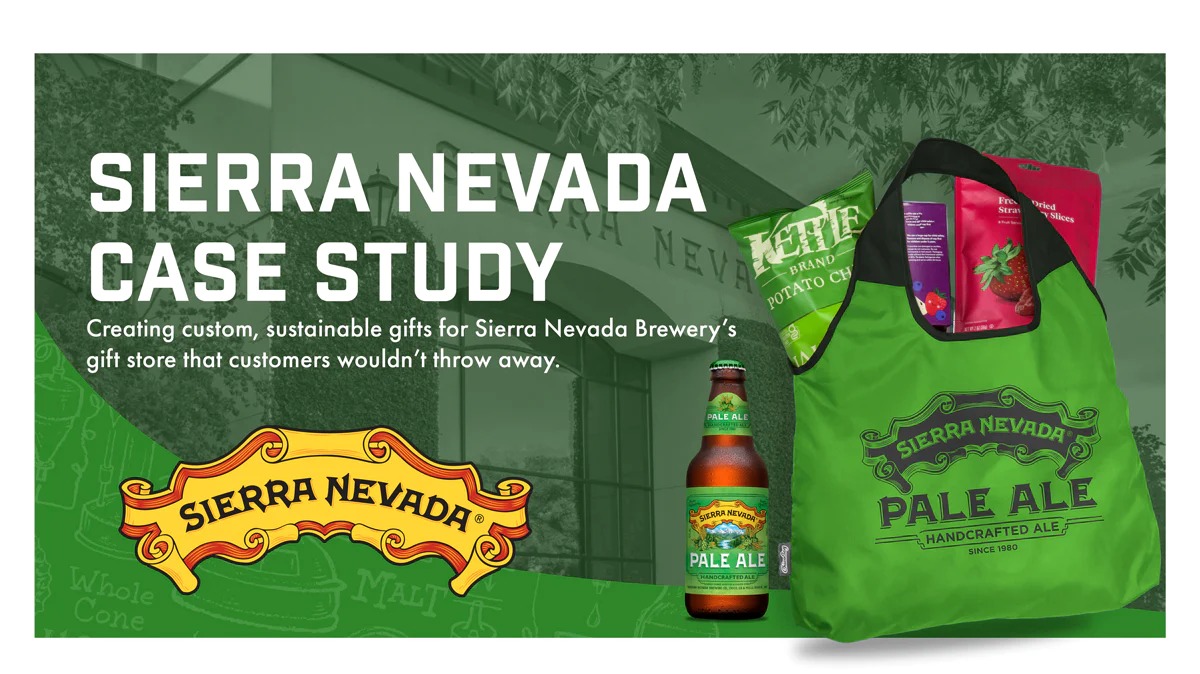 At a Glance
Challenge:
Create high quality, sustainable merchandise for Sierra Nevada Brewing Company's gift store
Solution:
Durable, useful, reusable ChicoBag products
Benefits:
Sustainable gift store options
650,000 bags saved from landfill
12,585,000 grams CO2 not released into the atmosphere
The Client:
Sierra Nevada Brewing Company was founded in 1980 in Chico, California, by Ken Grossman. Today, Sierra Nevada Brewing Company is the 3rd largest craft brewer and 10th largest brewery in the USA, and their beer is available in all 50 states and overseas. The company has a sustainable mission for their craft brewery business that includes reducing emissions for both their suppliers and partners so it lessens the impact on the planet. They have a long history of being dedicated to sustainability and using their resources wisely.
The Challenge:
Over the last 30 years, Sierra Nevada Brewing Company has grown from a backyard hobby to a thriving brand that goes beyond beer. Their goal? Stock their retail stores at each location with items that reflected the values and feel of the brand.
Specifically, they needed merchandise that wouldn't end up as trash. It must be:

Durable
Useful
Reusable
"We don't want to give something that somebody is going to throw away,'' said Mandi McKay, Director of Social Responsibility. "The branding should be durable and come across strong. We're always looking for something made from recycled content. You can expect really high quality from our beer--the same should be true in our retail store. "

The Solution:
Sierra Nevada Brewing Company needed a supplier who could provide merchandise that met all three of these needs. They connected with ChicoBag and discovered their products met every one of the points on their merchandise checklist:
Durable: Unlike single-use bags, ChicoBags are built to last. They are made out of tough material strong enough to tote up to 25 lbs (aka 20 jars of mustard, a hoodie, an Oktoberfest beer stein, and an Alpine hat!).
Useful: ChicoBags are useful to have on hand for toting everyday essentials and shopping. It fits just as easily in a pocket as it does in a purse. And because the pouch is cleverly sewn into the seam of the bag, it won't get lost. That means you can always rely on your ChicoBag to be there for impromptu beer runs.
Reusable: Machine washable means ChicoBags can be used and cleaned again and again. In fact, itreplaces at least 1040 single-use bags throughout its life.
Having sourced a retailer who could meet their needs, Sierra Nevada Brewing Company enlisted the help of ChicoBag to design custom Original Bags with their logo for the Gift Store. Customers loved the beer-branded gift that look cool and protect the planet.
Most importantly, McKay felt that ChicoBag was a good match because it reflected the mission behind the brand. The sustainable gift products "showcase our values through the things we sell or giveaway or incentivize with, which ChicoBag does."
The first order of custom Original ChicoBags for Sierra Nevada Brewing Company was placed in April 2008, and the collaboration between Sierra Nevada Brewing Company and ChicoBags is still going strong today.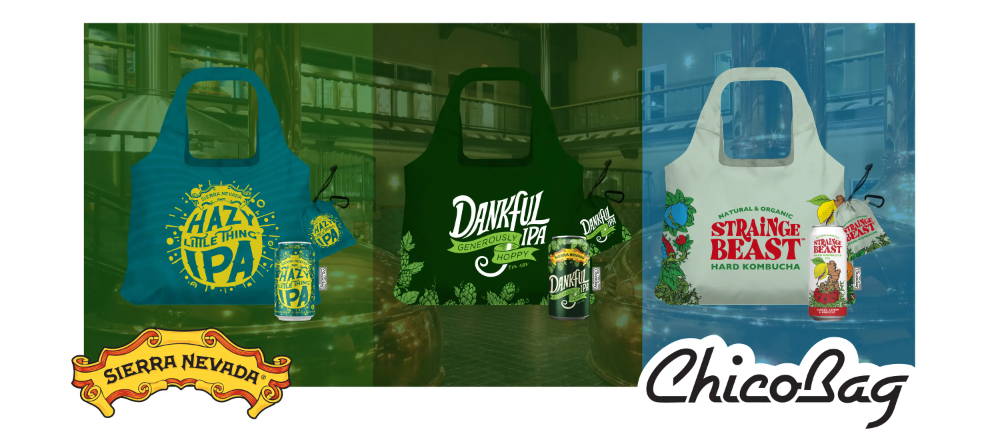 The Results: Merchandise Need Met, Powered Zero-Waste Employees, and 40 Million Bags Kept out of Landfills
The 13+ year collaboration between Sierra Nevada Brewing Company and ChicoBag has led to an impressive impact. Along with the original goal of having sustainable merchandise in the gift store, the partnership led to internal changes as well for employees. And one of the best bonuses was the environmental impact.
Durable, Useful, Reusable Merchandise Sourced
Original ChicoBags are sold in both the Sierra Nevada Brewing Company's gift stores and online. They've become a client and business favorite because of their versatility and durability. It has single-handedly kept650,000 single-use bags out of landfills in 2021 alone.
A Reusable Product People Wanted
One of the most positive changes brought about by choosing sustainable gifts like custom ChicoBag products was an internal one. Every new employee now gets a ChicoBag and a Klean Kanteen when they come on board, so they're set up for personal zero waste. Plus,ChicoBag branded Original Totes, Vita bags, and Kleen Kanteens have long been a customer and employee favorite.
"People are pretty stoked," McKay enthused. "The custom ChicoBag sustainable gifts have always been a really great giveaway, to incentivize with, or throw out in an audience, and build engagement around."
40 Million Bags Kept Out of Landfills
The environment also won from the partnership between ChicoBags and Sierra Nevada Brewing Company. Since then, 40 million bags have been kept out of landfills and waterways.
The Equivalent of 30,620 Miles Not Driven
In 2021 alone, Sierra Nevada Brewing Company's choice to stock reusable bags reduced its carbon footprint significantly. In 2021, their net carbon footprint from choosing sustainable gifts in the form of reusable bags was: -12,585,000 grams CO2. (That's the equivalent ofnot driving 30,620 miles).