The Challenge: Finding a Facemask to Keep Drivers Safe
It's March of 2020, and what was supposed to be a banner year is now a nightmare. People are quarantined across continents, curfews enacted in hundreds of cities, fear rampant. And yet, public transportation must go on. People must still move, and the Foothill Transit will help them do it safely.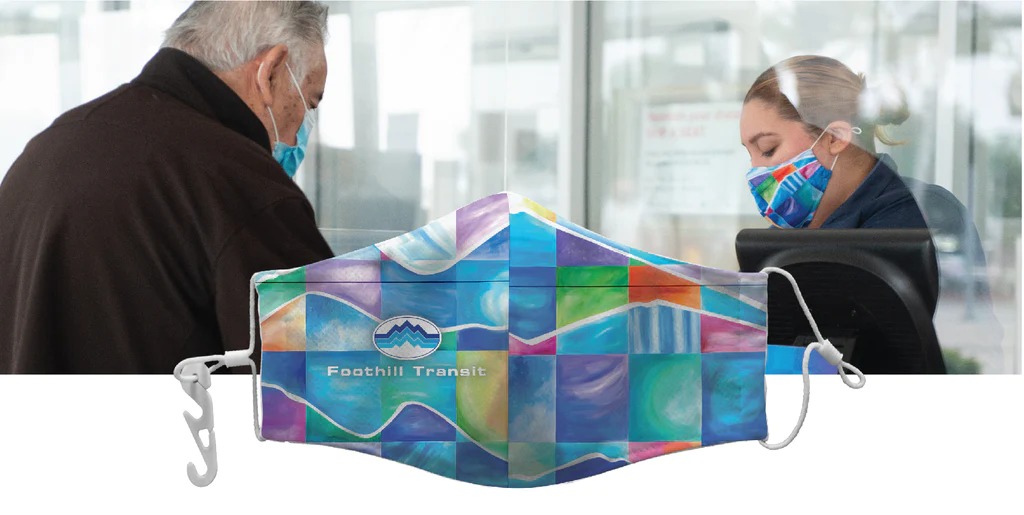 Set the scene for Foothill Transit, one of the largest municipal operators in Los Angeles County, serving over 14 million riders a year and employing over 1000 public and private members. Their primary operational policy has been to keep customers and team members safe, and when COVID-19 hit, this mission reached critical importance.
Director of Marketing & Communications, Felicia Friesma was tasked with finding facemasks for everybody on the team, starting with bus drivers and those in customer-facing positions. Disposable options gotteam members back to work, but they were just quick, temporary fixes. "With safety being a top priority, I knew I had to find a better long-term fit," she said.
Friesma quickly identified five components she wanted to see in safety-first facemasks:
Meet the highest safety standards possible for facewear
Comfortable enough for an 8+hour workday
Adjustable fit for a variety of face sizes and shapes  
Customizable for company colors and logos
Reusable design and sustainable business practices
For Friesma, safety was by far the top priority:  "Operators have face to face contact all day long," she said. "If the mask won't keep them safe, it doesn't make the cut."  However, she dreamed of finding a mask that checked all the boxes but was doubtful it existed. She went into the search expecting to sacrifice some of her wish list. 
The Solution: ChicoBag Facemasks Met Safety Requirements—and More!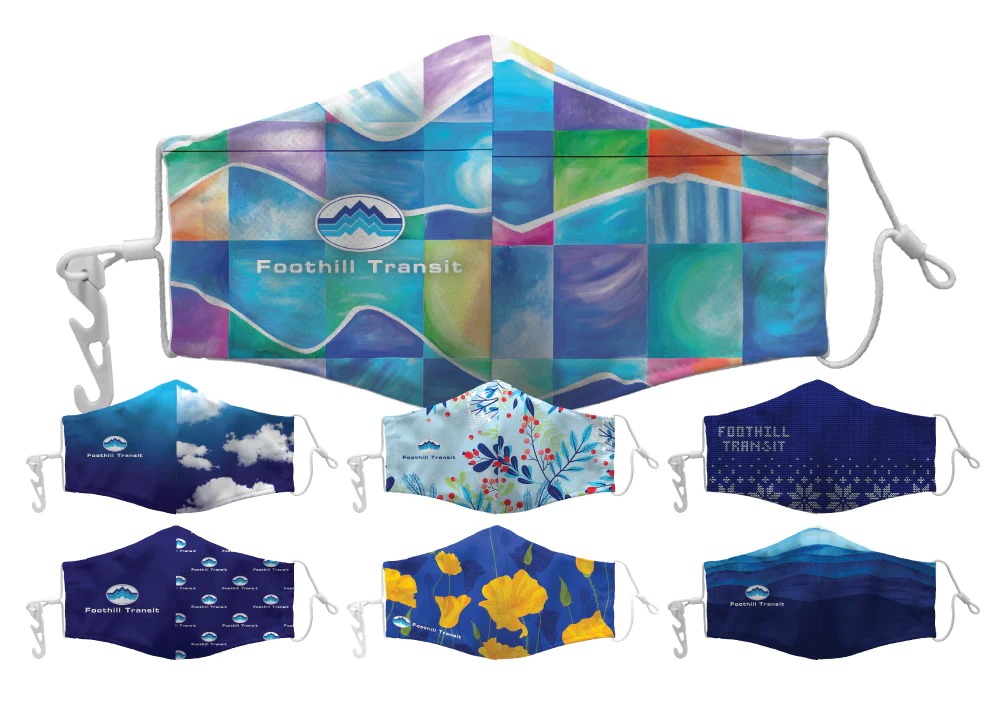 When Friesma's quest surfaced ChicoBag Facewear, she realized sacrifices might not be necessary. On further research, she found their facemasks ticked all the boxes:
Safety
Most important to Foothill mask safety requirements was finding one backed by science. The ChicoBag 2-Layer Consumer Facewear did just this, meeting rigorous European Union safety standards, which included particle filtration efficiency tests for blocking entry and exit of microscopic COVID-19 particles .3 microns (about the size of a grain of cornstarch) and smaller. It also met fit, breathability and washing regulations, altogether rivaling the safety of a blue surgical mask.
Comfort
The nose bridge ensured drivers andteam members with glasses wouldn't have the dreaded fog effect, and the lightweight materials were reported smooth and breathable for long periods of time. Felicia was happy to learn the fit was so comfortable that a colleague "accidentally stepped into the shower because they forgot it was on!"
Fit
Felicia was pleased to see an attachment clip in the back allowed for customized fits, and the metal nose bridge could be molded to the differing shapes of herteam members. Material on the cheeks could be expanded or compressed to accurately cover the face. 
Design
She was delighted to find company customization was possible and the prints were created using dye sublimation. Unlike screenprint, which releases microplastics into the waterstream when it cracks and flakes, the sublimation process offers an environmentally-friendly option  which penetrates the material for long-lasting, quality designs and colors. Foothill Transit opted to add their logo as well as a reproduction of some beloved company murals, to the great delight of allteam members.


Sustainability
Felicia discovered ChicoBag masks subscribed to the planet-friendly practices Foothill Transit aspires to with their own operations. ChicoBag's ethical manufacturing, carbon neutral commitment, and reusable approach checked the final box in her five-step solution to the perfect Foothill Transit facemask.
In July 2020, Foothill Transit received their first order of masks. Each driver received two or three masks of different patterns to wash and rotate. Soon, the drivers were swapping with each other for their favorite designs."They became trading cards! They quickly became favorites among drivers," reported Felicia. 
Word of the safe and colorful new facemasks quickly spread, and soon customer service, administration, operations, and board members were given their own customized Foothill Transit Facewear.
Results: Safety, Sustainability, and Cold Hard Cash
Friesma and Foothill Transit were relieved to find a way to keep theirteam members safe during an unexpected and widespread pandemic. They could rest assured theirteam members had science at their back and the safest possible mask on the market to protect them and the public, keeping everybody on the job. Sustainability and savings added extra perks. 
Safety Gained: European Standards
Foothill Transit was surprised to hear just how protected theirteam members and public riders would be. ChicoBag Facewear has been proven safer than even a blue surgical mask. They're tested against a rating equal to or less than 0.3 microns and meets higher European safety standards, significantly higher than any USA-based ratings. 
Disposable Masks Kept Out of Waterways: 1,094,000
One mask replaces 547 disposables. 547 masks x 1000 Foothill Transit teammembersequals 547,000 disposable masks. Counting two for every team member employee, Foothill Transit  will keep 1,094,000 disposable facemasks out of the oceans this year.
Money saved: $500,000
Two reusable facemasks for each of their 1000 team members cost Foothill Transit about $20,000. The cost of purchasing enough disposable facemasks for a year for all their team members would be about $520,000. ChicoBag reusable facemasks will save Foothill Transit approximately $500,000.