CHICOBAG HAS A LOT OF EXCITING THINGS IN STORE FOR YOU THIS YEAR, AND WHAT BETTER WAY TO KICK OFF 2022 THAN BY INTRODUCING OUR NEW PRESIDENT, SIERRA BRODLEIT.


Her journey with ChicoBag and To-Go Ware began back in 2009 when she started as an intern right out of college. Over the years, she's worked in many different roles throughout the company, including marketing, finance, and operations. Her years of experience with the company give her a unique perspective for the future of the business and a deep desire to continue the core sustainability efforts. And as a working mom who relies on many of the ChicoBag products in her everyday life, she has a good understanding of what is essential.
As the new year kicks off, Sierra is responsible for day-to-day operations of the company, ensuring ChicoBag continues to be a leader in the sustainability industry while boldly pursuing the vision for the company to bag the single use habit worldwide. Alongside her will be ChicoBag's founder, Andy Keller, in his new role as CEO of ChicoBag, following his passion in advocacy, product innovation, and vision in the  circular supply chain.  
As Sierra begins a new era in ChicoBag history, we sat down with her to discuss some of the initiatives she's been most proud of in the past and what she's looking forward to in the future.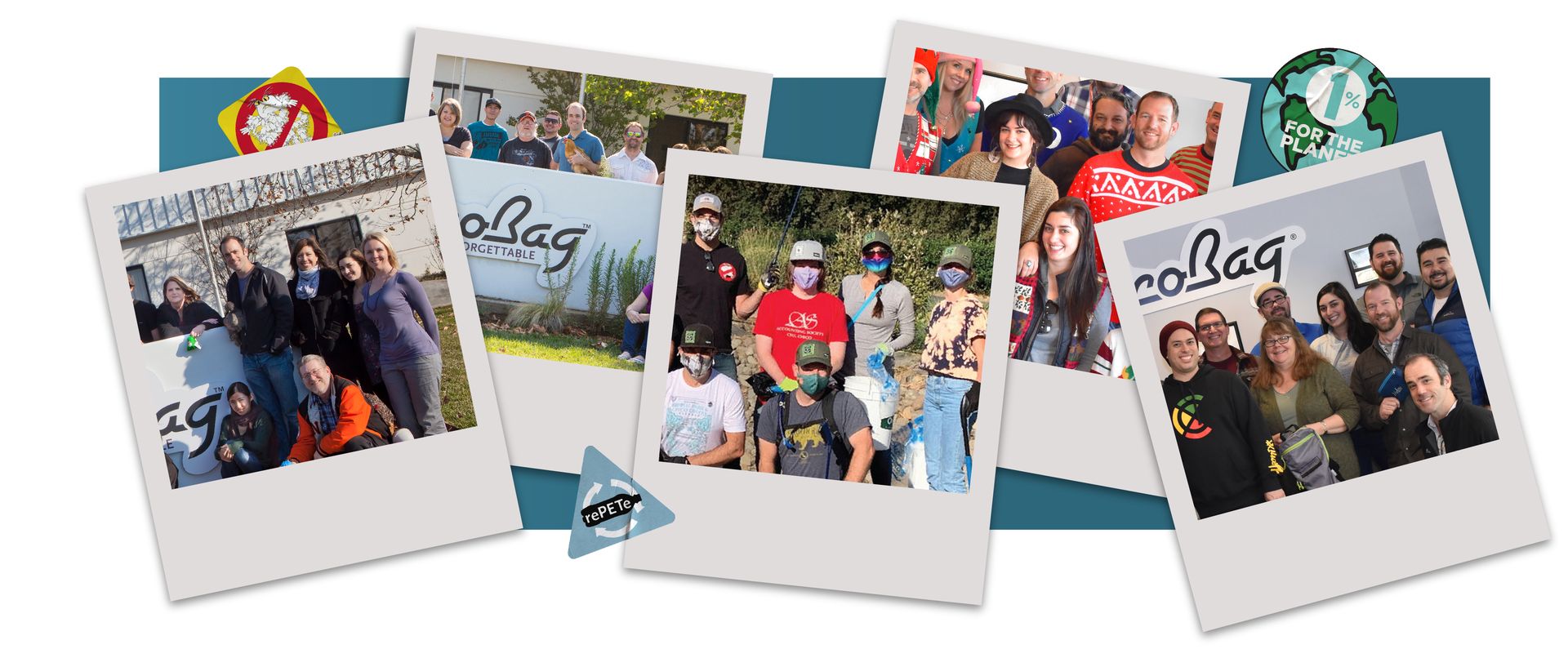 CB: Okay, Sierra. You've been here a while. Can you share a favorite moment from the last 13 years?
SB: One of the highlights was a cross-country  Bag Monster tourin 2010.Andy Keller traveled to 15 major cities on a motorcycle dressed as Bag Monster with a van full of plastic bags following. He would park in popular spots, unload 45,000 plastic bags, and educate people on what they were seeing. This represents what one person's lifetime plastic bag use looked like. It was a really exciting time for the movement - my first grassroots advocacy experience.
CB: This started with a particularly memorable moment in San Francisco, right?
SB: Yes! We did a march through Ghirardelli Square, which we think led to ChicoBag getting sued by the plastic industry. This sounds awful, but really it was a pivotal point. The result was a lot of press, a lot of stress, and a spotlight on reusable bags. It showed how big corporations try to quiet down smaller companies who are creating change and showed us that we were making an impact.
CB: What Certifications has ChicoBag acquired since you've been there?
SB: When I started we were a member of Green America and the Fair Labor Association, and now we're  Certified B Corp,Climate Neutral certified, and a  1% For The Planetmember. Every employee is super proud of this.These certifications represent a level of accountability and transparency that requires a lot of work and commitment. The most recent for us is the  Climate Neutral certification, and we just recertified for B Corp and are proud to report our score increased 12% over our 2018 score.
CB: What's next for ChicoBag?
SB: Beyond the Bag next steps are being worked through. We did the pilot last year, and now it's time for follow-up meetings, and figuring out what types of solutions we can get to retailers like CVS and Target, who are getting on board to help customers kick single-use habits. Beyond that, we're working to transition all product lines to recycled or renewable inputs. We are always exploring product innovations to build out our lines, and continue to provide products that support a zero-waste lifestyle.
CB: Any goals you'd like to talk about?
SB: We've got big goals. By 2030, we have committed to transitioning all our ChicoBag products to recyclable or renewable materials. We're also working to shift to less water and resource-intensive ways to dye fabrics and transport products.
CB: How will ChicoBag and To-Go Ware continue to lean into current commitments and also focus on new opportunities?
SB: We'll continue to deliver on the promise to our customers that we'll always produce things the right way with transparency. When we do discover we can do better, we will. All of the certifications have built-in goals, which help us stay true to those commitments.
Climate Neutral has reduction goals we've committed to, and the same holds true for B Corp, so those will get prioritized based on impact, and how much we can bite off and put into place. And as our  give-back programs succeed, we can continue to do more.
CB: Any #WorkplaceGoals?
SB: Shifting the zero-waste culture and perks of our physical office to apply to our now hybrid team. Our weekly in-person yoga shifted to zoom yoga when lockdowns hit, and we don't have intentions of switching back so that all employees can participate. We are going through a log of change in 2022 and supporting employees through that will be the top priority.
CB: You're joining a pretty incredible group of women in leadership in the sustainable space. Rose Macario and  Juliet Davenport come to mind. Any words of wisdom for other females in this space?
SB: I grew up being supported and empowered by my family, luckily. I was wired to just go after what you're trying to accomplish. If you can find a place where you are passionate about the mission and vision and you show up with the right attitude and willingness to work hard and learn, you will succeed because you are going to help create progress. Be confident and pursue your passion with a company aligned with your vision for a better world.
CB: Finally, which products can we always find in your bag/car/desk?
SB: In my purse there is a Vita print and an assortment of travel zips, since they keep all my things organized. Oh, and snack bags, can't leave home without snacks. In my car you'll find a travel pack behind my seat, a premium utensil set in my center console, and a few shopping bags in my car door.