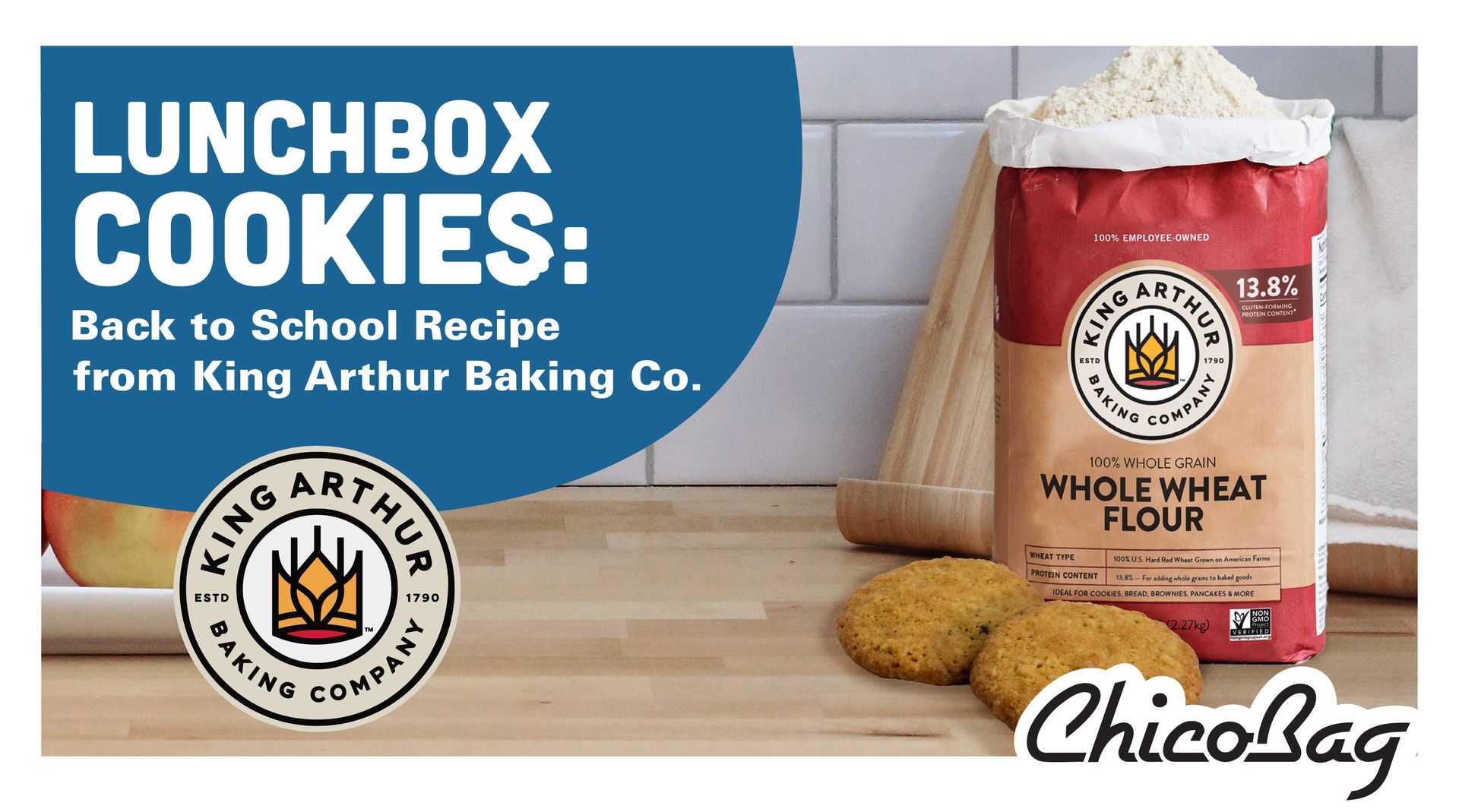 Back to school means many things: Red Rover on the playground, book reports about George Washington, frantic quests for #2 pencils, sleepovers on Friday nights.
The result: hungry kiddos!

Snack time is where it's at this semester, so we teamed up with longtime partner King Arthur Baking Co. to bring you a tasty recipe perfect for stashing in lunchboxes or nibbling after classes. Whole wheat flour and oats ensure things stay healthy, while jammy bits and add-ins keep them coming back for more.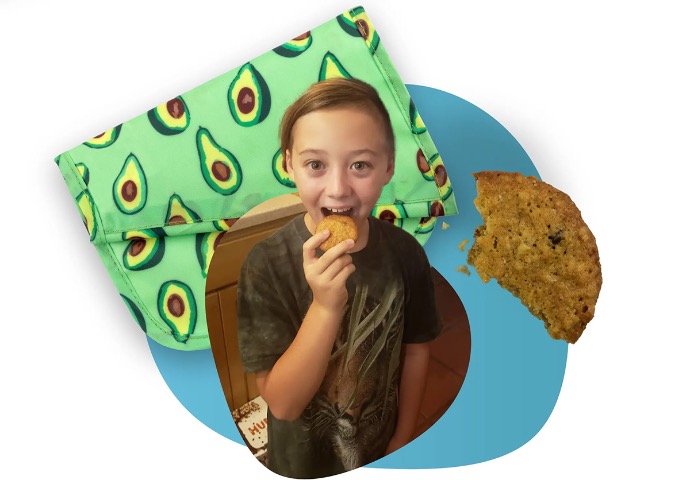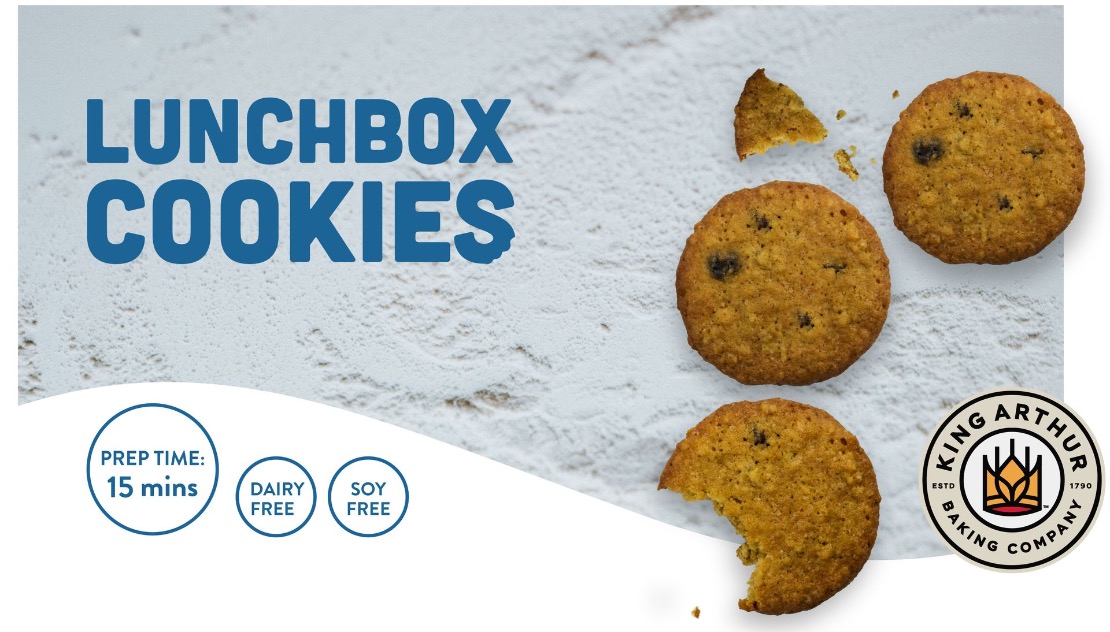 BAKE:13 to 16 mins
TOTAL:3 hrs 28 mins
YIELD:about 5 dozen small (2 1/4") cookies, with 2 cups of add-ins
Ingredients
8 tablespoons (113g) butter, room temperature
1/3 cup + 1 tablespoon (78g) granulated sugar
1/3 cup (71g) brown sugar, packed
1/2 teaspoon salt
1/4 teaspoon baking soda
1/2 teaspoon baking powder
1 teaspoon

vanilla extract

1 large egg
3/4 cup (85g)

King Arthur White Whole Wheat Flour

3/4 cup (68g) quick-cooking oats, ground in a food processor or blender if desired
2 tablespoons (28g) orange juice, optional*
2 cups (227g)

Jammy Bits

, dried fruit, nuts, or chips*
Instructions
Beat together the butter, sugars, salt, baking soda, baking powder and vanilla until well combined.
Add the egg, beating until smooth. Scrape the sides of the bowl, and beat again until smooth.
Add the flour and oats, beating to combine.
If you're making cookies using chips, nuts, etc., beat in the orange juice, then the add-ins.
If you're making plain cookies, without add-ins, omit the orange juice.
Cover the cookie dough, and refrigerate until thoroughly chilled; at least several hours, or overnight for best results. You can bake these cookies without refrigerating the dough, but they'll spread to be quite flat, especially if there aren't any add-ins.
When you're ready to bake, preheat the oven to 375°F. Lightly grease (or line with parchment) two baking sheets.
Drop the cookies by the traditional teaspoonful (about 2 measuring teaspoons, about a 1" ball) onto the prepared baking sheets, spacing them about 2" apart. A teaspoon cookie scoop works well here.
If the cookie dough has been refrigerated, bake the cookies for 13 to 14 minutes, until they're a very light golden brown, and a bit darker around the edges. For unrefrigerated dough, bake for about 11 minutes. For softer cookies, reduce the baking time by about 2 minutes.
Remove them from the oven, and cool right on the baking sheets.
Tips from the King Arthur Bakers
Choose your favorite texture: To make cookies with a craggy, oatmeal cookie-like appearance, use quick oats. For a smoother, more chocolate chip cookie-like look, grind the oats in a food processor before using, or substitute oat flour.
Use the optional orange juice if you're adding chips, nuts, fruit, etc. Don't add the orange juice if you're not using any add-ins.
Jammy Bits, sweet, soft little morsels of fruit purée, come in five delicious flavors: blueberry, raspberry, cherry, apple cinnamon, and orange.
What about using traditional (old-fashioned) rather than quick oats? Go for it; we haven't tried it, but assume the spread will be different. If all you have in the cupboard is old-fashioned rolled oats, give them a quick whirl in a food processor, so they're more like quick oats; or process till they're finely ground, for a smoother-looking cookie.

Why do you enjoy partnering with ChicoBag and To-Go Ware?
At King Arthur Baking, we are on a mission to use our business as a force for good. To build stronger, healthier communities. To leave a positive impact on people and the planet. We cannot accomplish this mission on our own. We must partner with others and support one another in this work. As a fellow Certified B Corp and 1% for the Planet member, ChicoBag is an ally in this work.
How do good eats and sustainability go hand-in-hand?
We believe in nurturing people and the planet through baking. Baking up a batch of delicious treats and then packing them in reusable containers, just makes perfect sense to us.