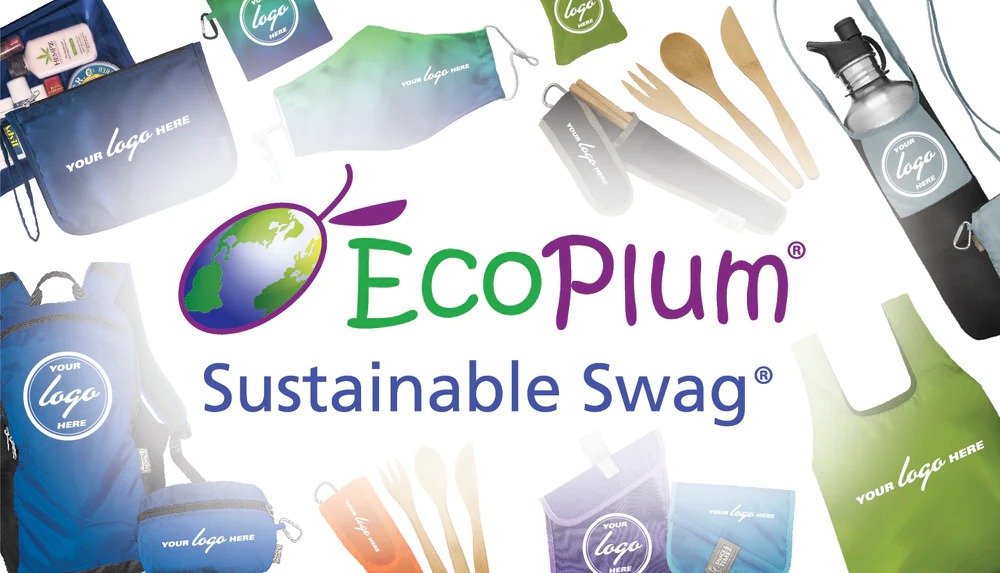 How EcoPlum Used Sustainable Swag® Products to Create Conscious Habit Change
The Challenge: Promotional Products Were Big Plastic Polluters--But Businesses Didn't Want to Do Anything About It
IN THE U.S. TODAY, PROMOTIONAL PRODUCTS ARE A 24 BILLION DOLLAR INDUSTRY.
The average person owns  at least 30 promo items alone. And it's effective: research indicates promotional products may be the most  "high-impact, cost-  effective advertising medium," significantly increasing both deals and impressions. 

Unfortunately, promo products generally end up in landfills.
Most recipients of conventional branded merchandise don't hold onto the products very long  (less than a year in most cases), so the majority of these mass-distributed items are tossed in the trash. 
The result? Massive plastic pollution.
A plastic bag can take up to1000years to decompose. One small plastic pen can take as long as450years. Every year, 8 million metric tons of plastic end up in the ocean,  killing over100,000 marine mammals and turtles,  plus over a million seabirds. 
Single-use plastic waste is clearly an enormous problem today, but it was even worse a decade ago when few companies considered the environment in their promotional product purchases. Businesses distributed plastic swag en masse, effectively piling up more disposables in the waterways and landfills. Educating buyers on the damaging and long-lasting impact of plastic pollution was one key element to changing their habits and has helped lessen the impact today. Most importantly, however, they needed a viable alternative to market their brands.  
The Solution: EcoPlum Helped Business Change Buying Habits by Offering Planet-Friendly Promotional Options
Enter, EcoPlum. In 2008, former management consultant and healthcare software entrepreneur Gia Machlin realized she wanted to help companies be part of the solution to combat promotional plastic pollution. She wanted businesses to have convenient, affordable, and sustainable promo items that would be kind to the earth and reduce the environmental footprint of the industry as a whole.
Convincing businesses to consider sustainable promotional products wasn't an easy task at first.
Years of quick-and-easy habits were hard to break. It was cheaper and more convenient to continue buying disposable plastic swag, even if companies knew they should purchase more sustainable options. 
"It was hard at first to convince people to value sustainability and choose reusable over disposable," Gia said. 

This all changed when she discovered ChicoBag, a company dedicated to reducing single-use plastics with reusable, packable bags. 
The high quality, everyday accessibility, and colorful palette of ChicoBag products made them an obvious win for businesses right off the bat. Gia also appreciated that the company was reliable, professional, and a Certified B Corporation. She began to give potential customers ChicoBag reusable packable bags adorned with EcoPlum branding. In 2008, it was the first branded product for EcoPlum and remains a very popular item today. 
"When we walked into a room or conference and handed everyone a ChicoBag," said Gia, "it was easy for them to understand. The bags are a good representation of what sustainability is, and the branding is visible to the public with every use."
Gia gave away co-branded ChicoBag reusable bags as prizes in social media contests. And over a decade ago, the company engaged the Broadway Green Alliance (BGA) and the management of Wicked to brand their own versions for  theater cast and crew members dedicated to greening the Broadway community. 
By demonstrating a product that was kind to the planet, kind on their budgets,and just as easy to purchase as disposable swag, EcoPlum helped companies adopt better buying habits--and consequently keep more plastic out of landfills and waterways. 
Executives soon realized how easy it was to have the best of both worlds: the EcoPlum Sustainable Swag® line of eco-friendly promotional productsandeffective marketing solutions.
EcoPlum established its reputation as a trusted source in the promotional products industry for high-quality, sustainable, and reusable merchandise. With a transparent set of environmental and socially-conscious criteria, EcoPlum helps businesses examine their own buying habits, make meaningful choices, and opt for more earth-friendly products. 
By offering items such as a co-branded ChicoBag reusable tote or a To-Go Ware sustainable bamboo utensil set, EcoPlum demonstrated to businesses how reusable products provide the opportunity to repeatedly reinforce their long-term value and strong company standards with each public use.
"I carry three ChicoBags with me every day, so I'm never caught without reusable bags. Convenience and sustainability go hand in hand," Gia said.
The Results: EcoPlum Helps Businesses Keep Thousands of Plastic Items Out of Landfills and Oceans Each Year
Today, over twelve years later, EcoPlum has helped influence change across countless organizations. The use of sustainable promotional products is much more widespread, due in part to the company's efforts, as more and more businesses opt for planet-friendly swag. In doing so, they're reducing plastic pollution in landfills and oceans.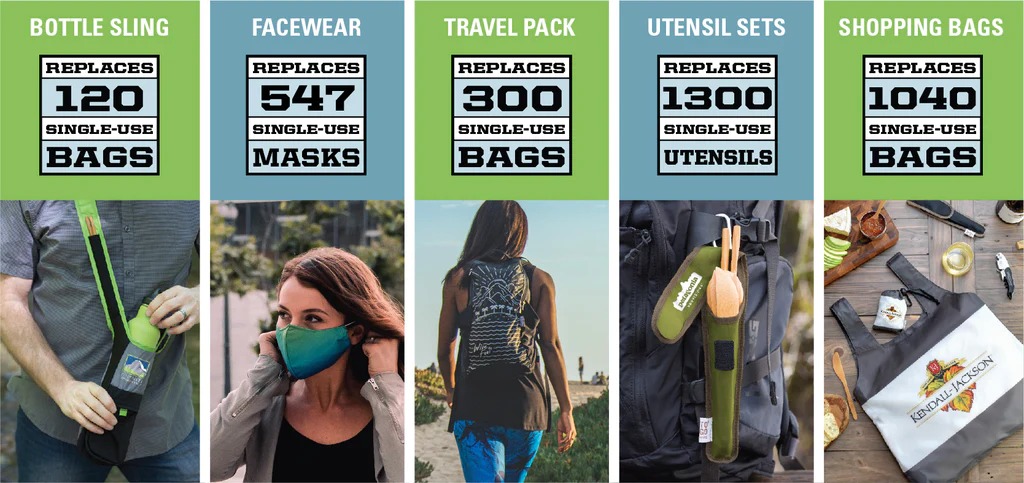 This change is evident in a quick look at the impact of replacing disposable products with reusable ChicoBag ones:
Businesses choosing Sustainable Swag® products from EcoPlum have the ability to keep thousands of plastic items from rotting in our oceans and the earth for centuries to come.

EcoPlum Company Profile
Company at a Glance: 
EcoPlum Business Gifts offers a line of sustainable promotional items for businesses, universities, nonprofits, and events.
Mission Statement:
At EcoPlum, we believe that an organization's brand reflects its values. Our mission is to help buyers make responsible choices on branded gifts and elevate their marketing practices in a more sustainable direction. EcoPlum created the Sustainable Swag® line of environmentally-sound alternatives to conventional promotional products with a goal of reducing plastic and other harmful waste in our landfills and oceans. We are committed to a triple-bottom-line strategy focused on people, planet, and profit.
Employee count: 7
Industry: Marketing, Advertising
Services: Marketing Solutions and Promotional Products with its "Sustainable Swag®line
The Challenge: Change buying habits for promotional products and challenge companies to align their environmental values with their business practices
The Results: Companies making more responsible swag choices for their branded gifts with a goal of reducing plastic going into landfills and waterways