Challenge
TED 2022 conference to offer a more sustainable snacking solution for attendees.

Balance the convenience of packaged snacks with teachable opportunities for more sustainable choices.




Solution
Partner with ChicoBag to create customized snack bags that attendees could use to fill from bulk snack stations.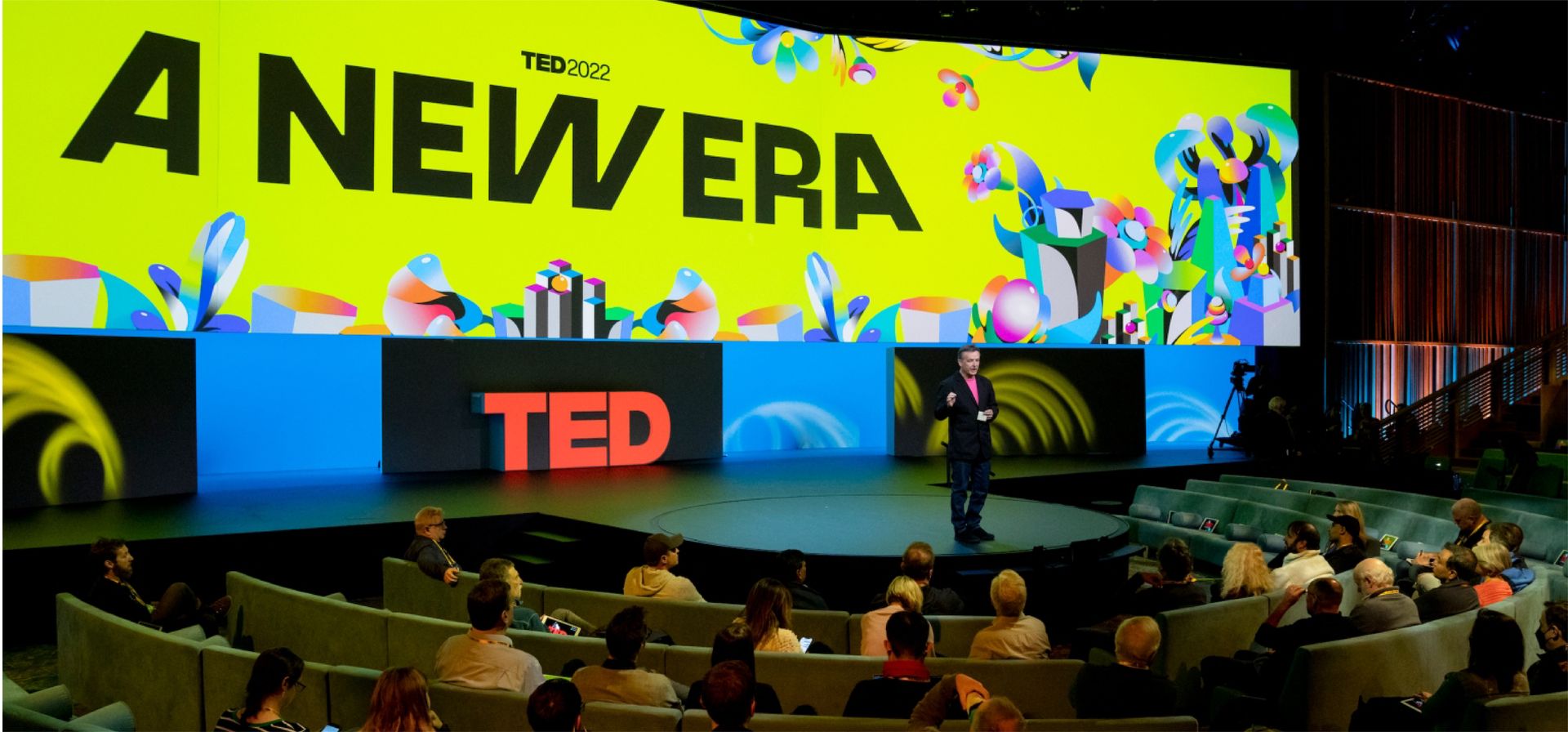 The Overview
Since 2019, TED conferences have been rethinking the way they handle social responsibility and sustainability while hosting their national events. The goal is to reach Net Zero year-over-year; launching programs like the Countdown Initiative, partnering with brands that walk the walk, and evolving to consistently make choices centered around environmental impact. 
"We really value sustainability and are conscious of our footprint," said Rachelle Collette, TED In-Kind Experience Production Manager, Food and Beverage. "We are trying to be leaders in our industry and showcase what sustainable conference production might look like."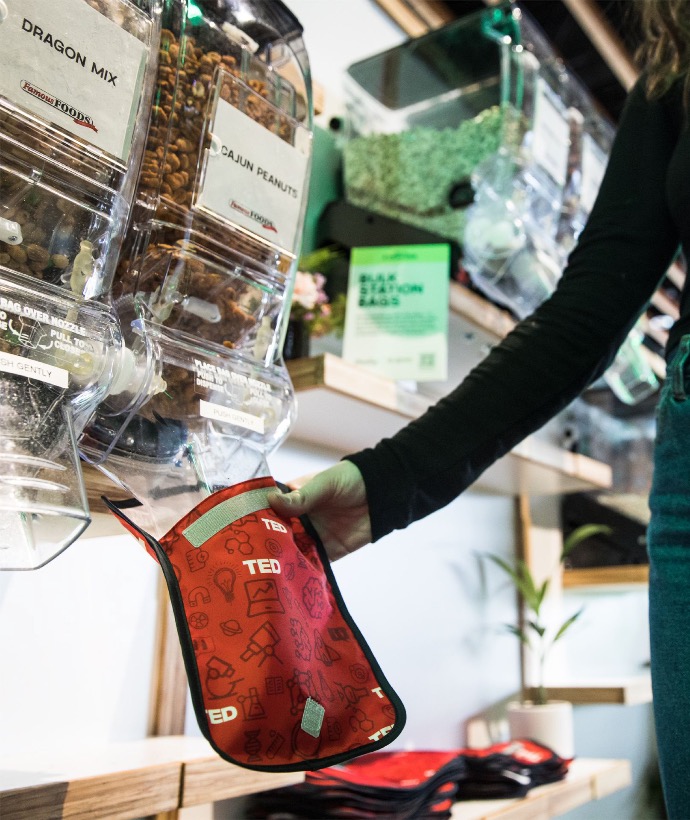 The Challenge
Trade shows and conferences are large-scale events where environmental footprints matter. TED2022 wanted to capitalize on this by turning it into an opportunity to offer sustainable alternatives to single-use products. 
The TED In-Kind team identified snacking stations as one key opportunity for reducing plastic waste.
"I was onsite in 2019 and saw the waste the program made," said Collette. "For 2022, I wanted to make a difference without taking away from the program. How could we do snacking and do it more sustainably?" 
Bulk food stations were an easy way to reduce a large amount of single-use plastic waste from pre-packaged nuts and treats and other snacks. 
But where to put those bulk snacks? 
The Solution
A reusable snack bag, of course! 
"We wanted to give attendees a bag to hold their products in so that we didn't need to use single-use bags," explained Collette.
Enter reusable snack bags from ChicoBag. 
In search of a sustainable, reusable, and washable option to hold edibles, the In-Kind team discovered the customized ChicoBag Snack Time bags. "We are always looking for companies with a similar value," said Collette, "and we really liked the design of the bag that it folded and it velcroed. A lot of times people take it and want to eat it later."
Constructed from certified recycled materials and a net neutral climate impact, these snack bags are easy to clean and exceed FDA food safety standards. Their foldable design allows for snacks of different sizes and shapes, and the design allows for full-color branding and printing opportunities. Even better, each bag replaces 1825 single-use bags throughout its lifetime.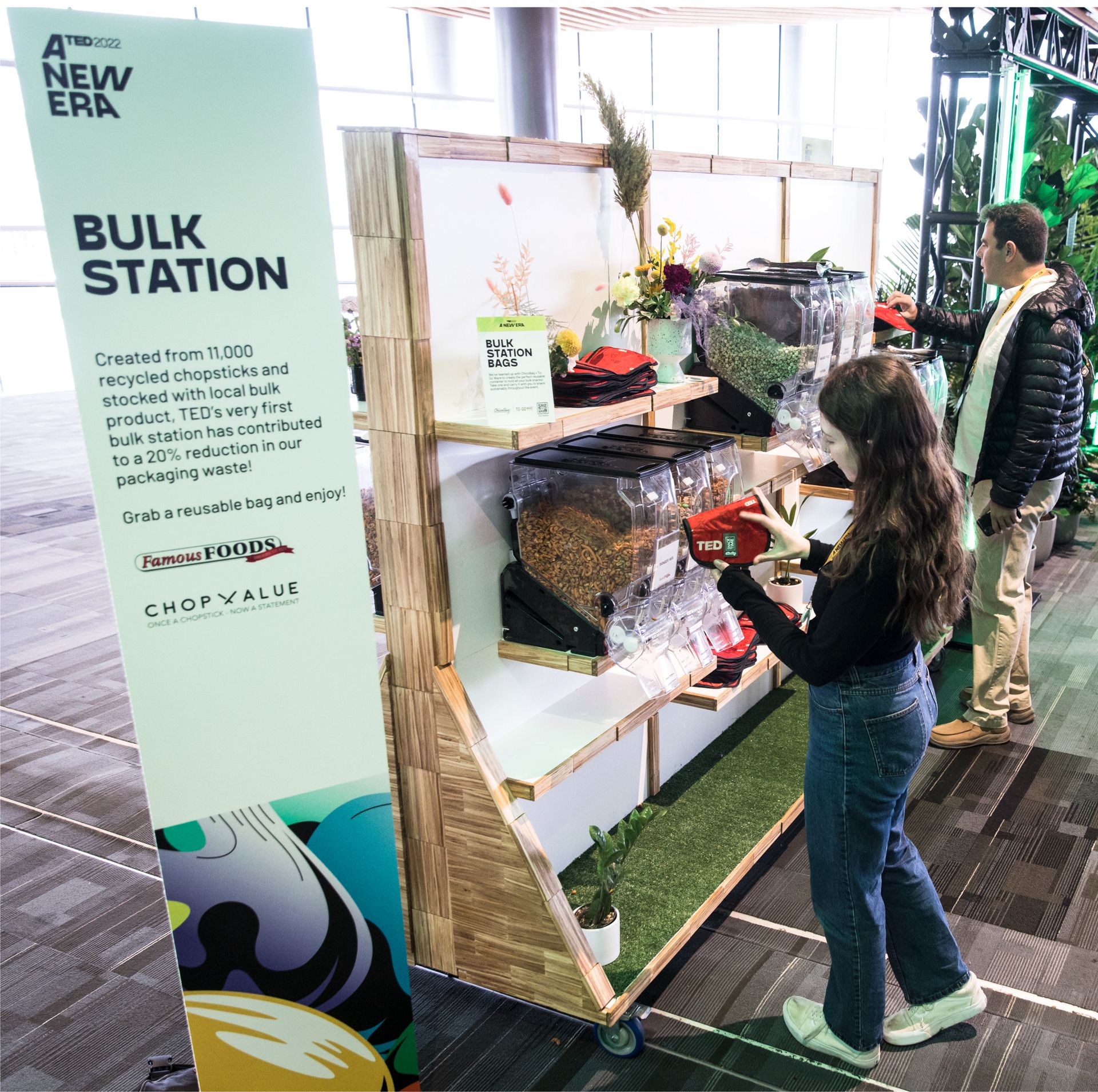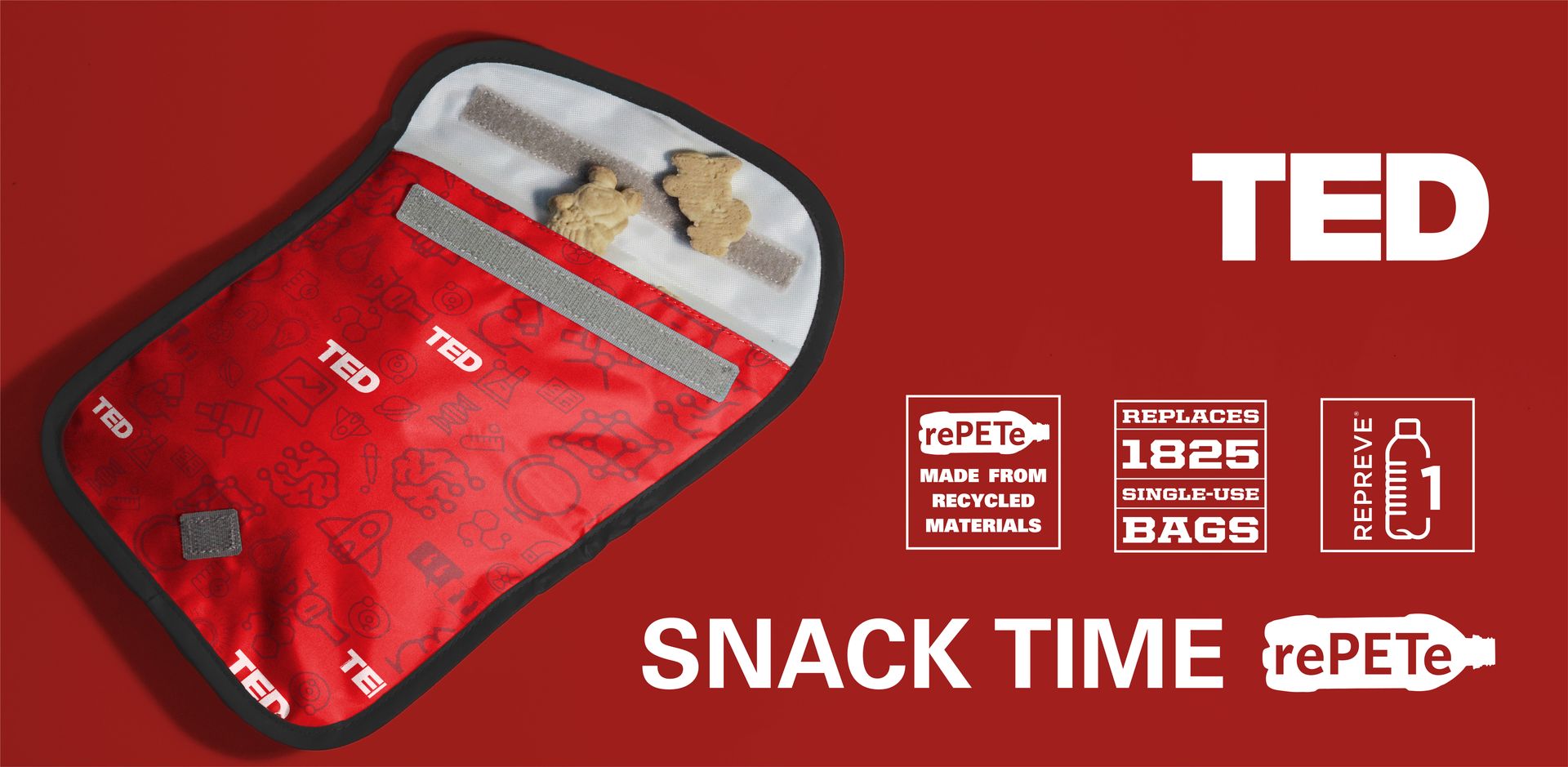 Results
20% Single-Use Plastic Reduction
Through their partnership with ChicoBag, Ted2022 reduced the amount of plastic packaging used by 20%. 
3,650,000 Single-Use Bags Kept Out of Landfills
Every ChicoBag SnackBag replaces 1825 single-use plastic bags over its lifetime. All 2000 bags were picked up by attendees to be used during the conference and after, keeping an incredible 3,650,000 out of waterways and landfills in the future.
2000 Enthusiastic Attendees
"The bag itself was wonderful! The design couldn't have been better. It was a win in terms of sustainability as well. There were none left."
Increased Brand Exposure
"We customized the bag and added the logo in a unique and fun way. Other brands we talked to wanted to do it in a generic way. ChicoBag did it in a unique way."
Having the TED logo prominently displayed on the snack bag of every attendee provided fresh, bold branding opportunities that would live on after the conference was over when people brought them home to use in everyday life.
Opportunity for Future Sustainability
"We aim to reduce our impact year-over-year and to become a Net Zero conference. We're well on our way thanks to partnerships like this!"
Want to do what TED did? Drop us a line.