​

At a Glance:

Challenge
Kodiak Cakes wanted to skip throwaway items and bring sustainable, reusable swag to their trade shows

Solution
Kodiak Cakes partnered with ChicoBag to create one-of-a-kind sustainable products that reflect Kodiak Cakes' brand and mission

The Client: 
Kodiak Cakes
Kodiak Cakes, a brand committed to healthier eating and active living through 100% whole grain, protein-packed, and non-GMO pancake and waffle mixes, was founded by CEO Joel Clark in 1995. During Clark's childhood, his mother couldn't find healthy versions of pancake mix in the store. An entrepreneur in her own right, she created her own homemade flapjack mix and packaged it up into family-sized bags. Clark loaded up his trusty red wagon and set off around the neighborhood, selling the mix door-to-door. This was just the start of his lifelong journey to get healthy foods in the hands of families everywhere.
Today, Kodiak Cakes creates delicious, hearty pancake mixes, waffle mixes, and oatmeal made from high-quality, whole-grain ingredients. Kodiak Cakes made an appearance on ABC's Shark Tank and has since grown to become a well-known health food brand beloved by families, moms of active kids, health-conscious shoppers, outdoor enthusiasts, and 
celebrities
 alike. Their products now span large retailers, focused on creating only nutritious and filling products.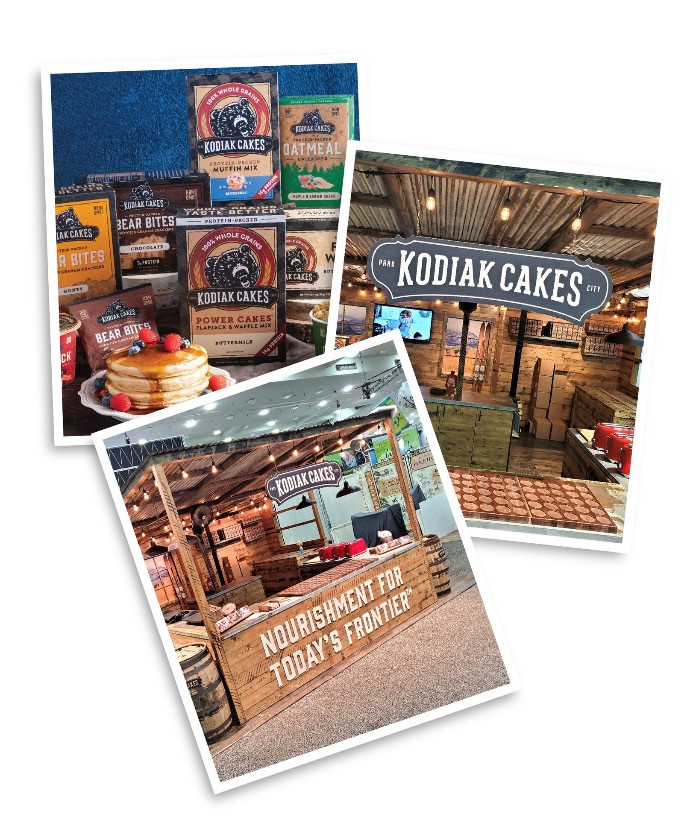 The Challenge: 
Sourcing sustainable swag options for trade shows
Trade shows are an essential way for Kodiak Cakes to present its products to potential resellers. And as any good trade show presenter knows, you've gotta have good swag.
In addition to being something on-brand and aligned to their active, outdoorsy aesthetic, the swag needed to line up with their growing commitment to sustainability.
"As we grow and think about the impact we're having at events and the waste level we leave behind," said Katie Speed, Field Marketing Manager, "we've realized the importance of giving away items that can be used again."
A secondary consideration for Kodiak Cakes was sourcing a company that could be a one-stop shop for designing, producing, and branding the sustainable trade show swag. Their internal team was swamped with ongoing projects, and they needed to find a like-minded, sustainable brand to be the leading force behind the project.
The Solution:
Sustainable custom swag from ChicoBag
ChicoBag creates customizable reusable bags, utensils, and containers in an effort to reduce plastic waste. Having partnered with ChicoBag in the past, a colleague of Speed's recommended them as a like-minded partner worth meeting. 
"One of my coworkers who had worked with ChicoBag in the past introduced me to them," said Speed. "After I talked to their team, there was no question. The trust was immediate, and I knew it would be a good partnership."
The Products
In keeping with their cabin-themed trade show booth, Kodiak Cakes chose four reusable products to hand out at the show: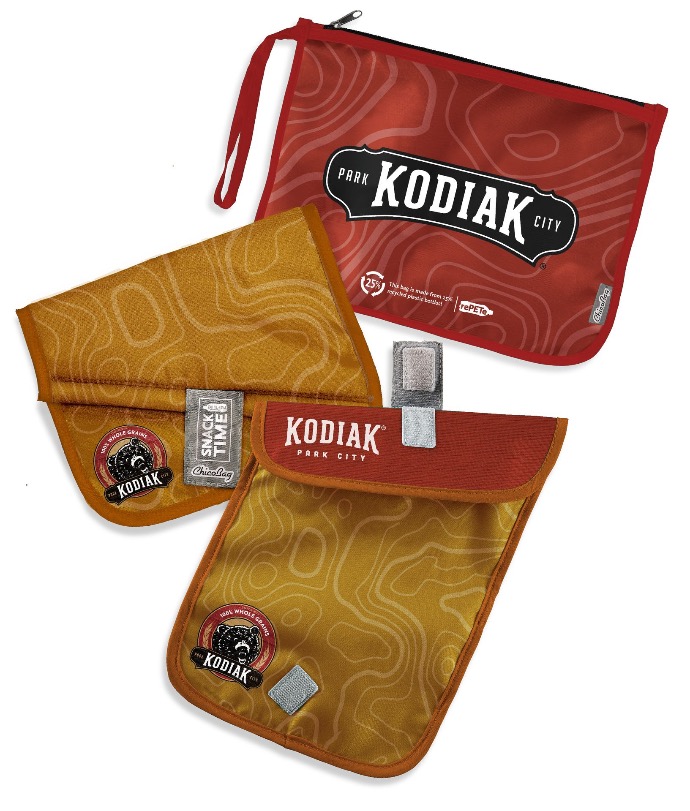 "We're a food product," noted Speed. "So we choose swag you could use with Kodiak products—while you're using your Kodiak cake mix, 
when you're making your pancakes on a camping trip, when you need to each lunch on the go."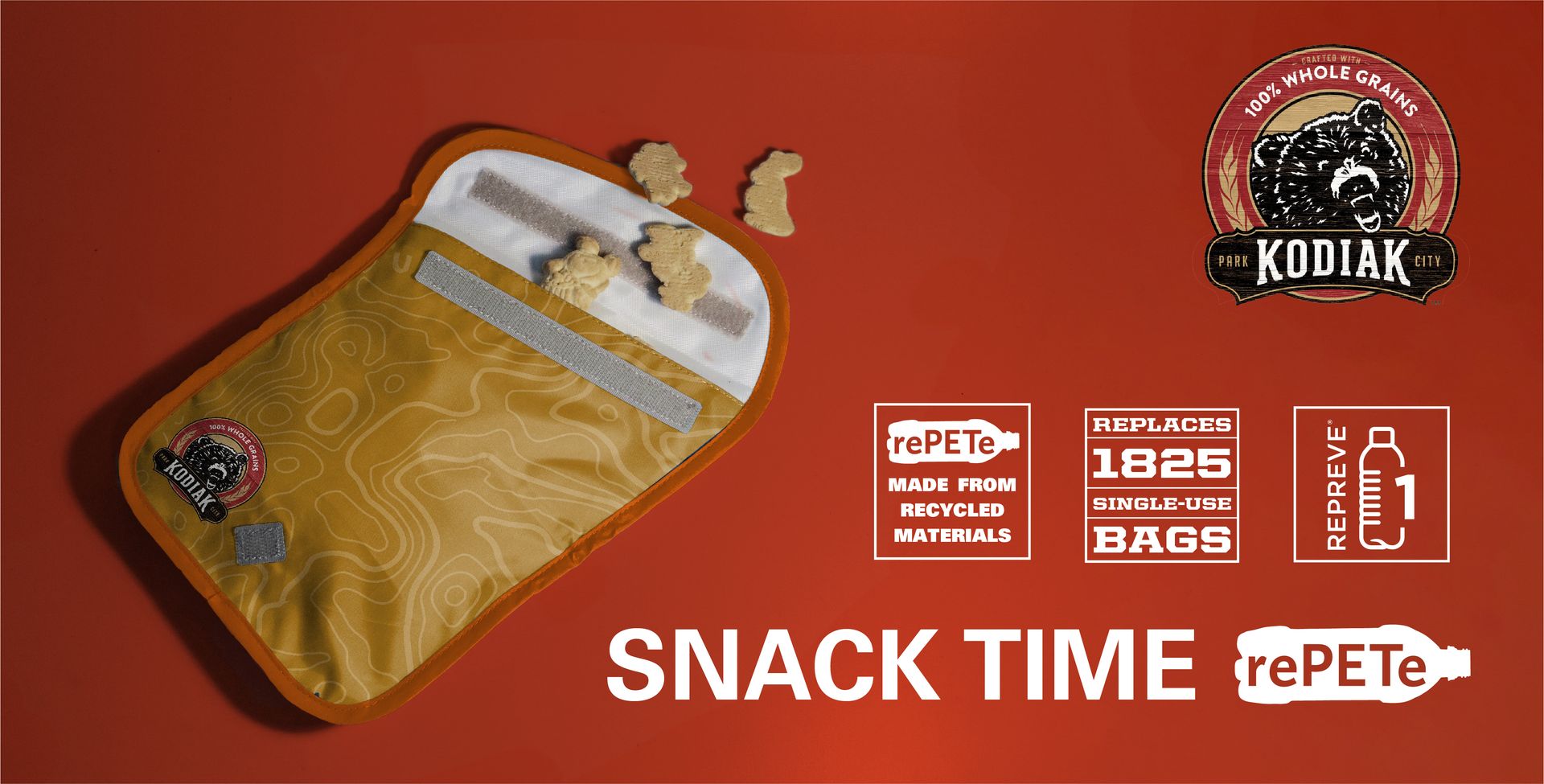 The Design
Once the items were selected, the design was up next. ChicoBag offered a unique customized option, in which their creative team would mock up several branding ideas and present to Kodiak Cakes for approval. 
"We thought everything was super on-brand and really well-done. I really loved that I just had to have them look at our website and 
they came back with options—it was a big time-saver for our team to have ChicoBag lead the design."
By the time the trade show doors opened, Kodiak Cakes had four custom-designed sustainable swag options
to hand out at their booth to draw attention and new potential customers.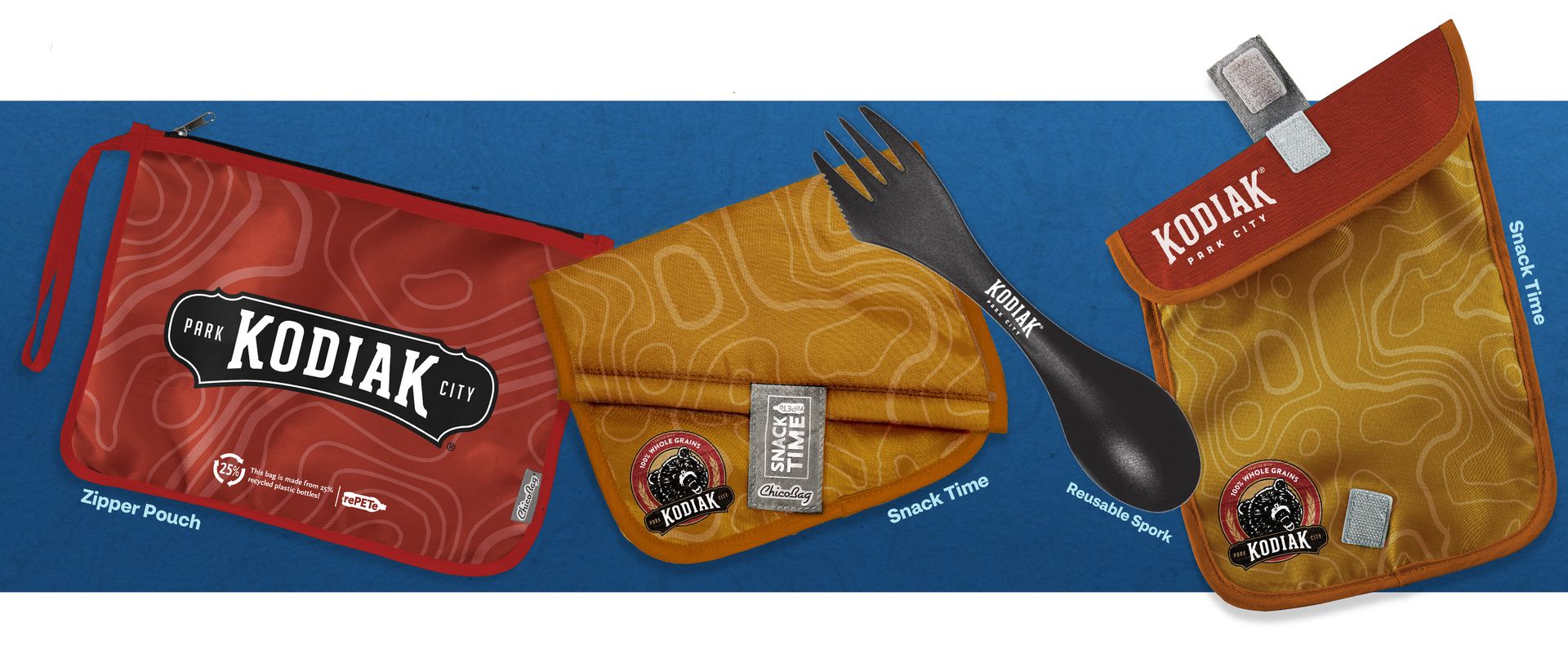 Results
Everybody loved 'em.
Giving out ChicoBags' reusable bags and utensils with Kodiak Cakes' unique branding proved to be a freebie that all passing by could enjoy, as well as one that patrons were likely to keep handy for future use. 
A Buzz Around the Brand

The customized trade show products were received with buzz, enthusiasm, and even prompted return visits from tradeshow goers throughout the day. Additionally, ChicoBag's sustainable swag was the perfect use-case for a Kodiak Cake product: the reusable cutlery could be used to eat Kodiak Cake products on the go!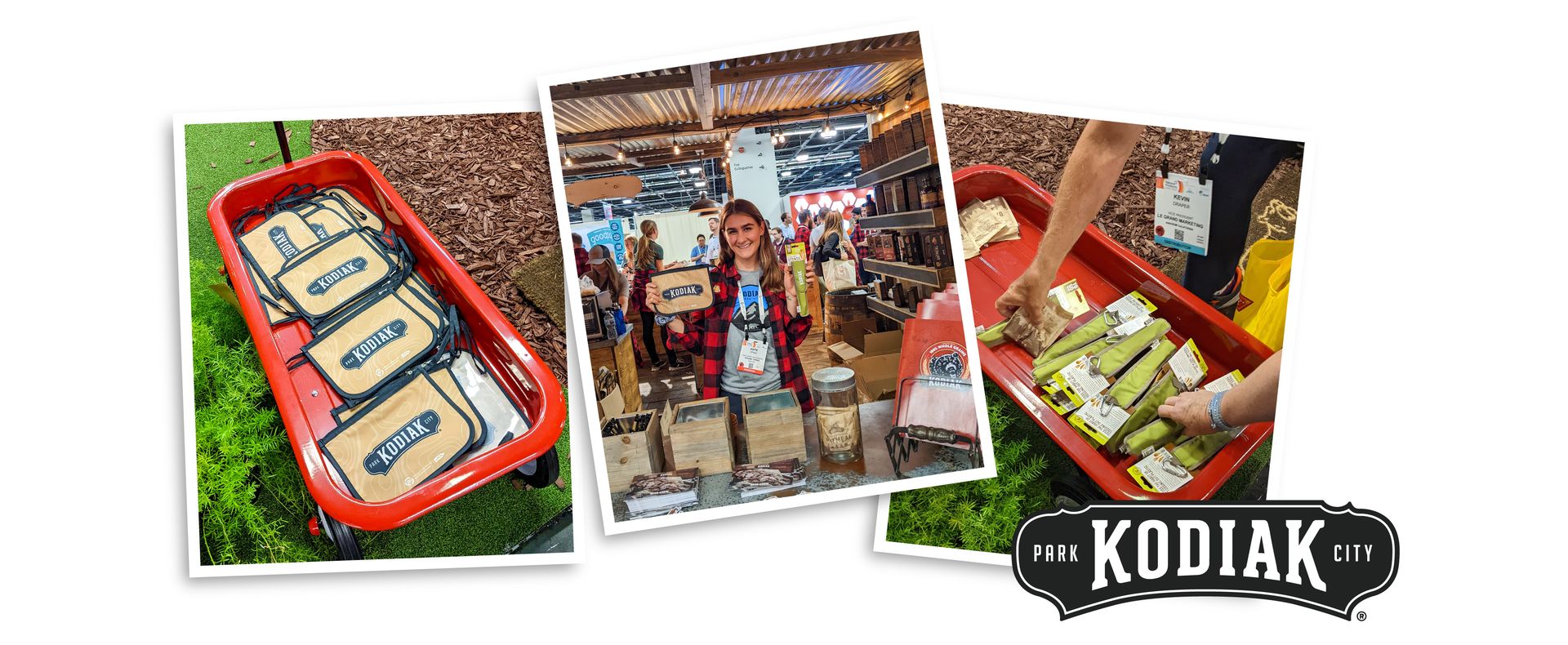 "People loved the products—we heard a lot of comments from guests telling us 
"your booth has a lot of swag; we came back to grab some more.'"
Strides Towards Sustainability
The partnership with ChicoBag furthered Kodiak Cakes' steps towards sustainability, a newer focus for the company. The swag they created was practical and multi-use, something that guests were unlikely to toss after their time at the trade show. 
"It was a good step for us to present to the leadership team because of the direction Kodiak Cakes is headed: into sustainability. 
We wanted to create swag that people wouldn't throw away immediately."
Kodiak Cakes continues to work with Chicobag, finding common ground in the realm of sustainability. Their natural ease of partnership will continue for years to come as they both continue on their journey of sustainability!