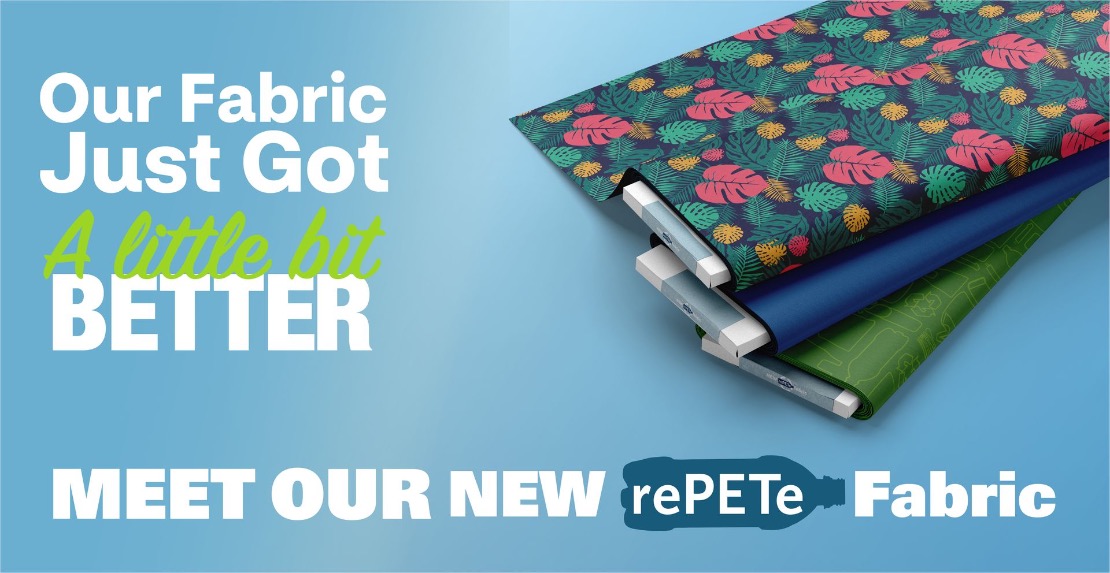 No matter what we're working on at ChicoBag, our mission remains the same:
Help humanity bag the single-use plastic habit. 
That's why we come to work every day.
Once we get to work, a few core values guide our priorities and decision-making: 
Create open, honest, win-win-win relationships 

Live the mission, drive the mission 

Be as bold as a Bag Monster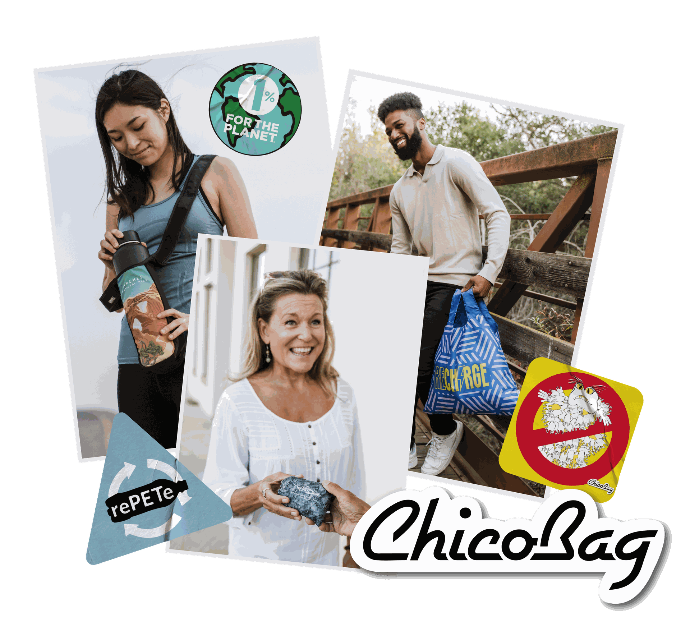 Now, those may be a bit cryptic to anyone outside the day-to-day operations, but they directly guided the decision to make a big change and challenge the way we'd always done things. 
Today, we are excited to announce the newest way we've made our custom order business a #littlebitbetter.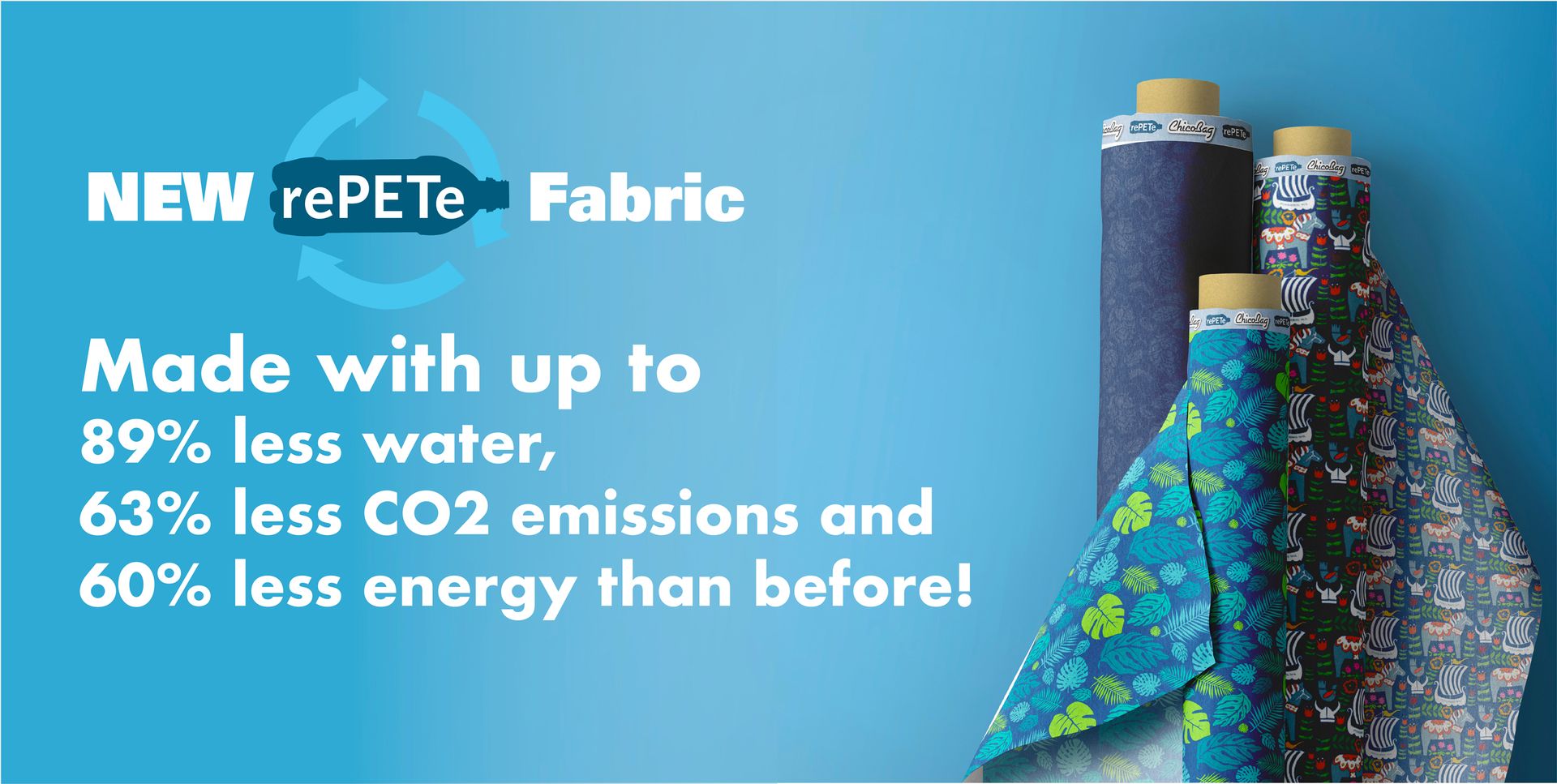 Aside from the obvious (see above) environmental benefits of making this switch, we're also proud to report some fun facts about this new fabric:
It's recycled:

the new rePETe fabric is 100% Global Recycled Standard Certified and made from post-consumer recycled plastic bottles. This change puts on the fast track to meet one of our 2030 goals (continue reading to learn more).

It looks better:

without getting super technical, we doubled the number of threads per piece of yarn and used a new weaving method to produce a better-quality fabric that holds color and resists wrinkles.

It feels better: not only does the new fabric have fewer wrinkles, but it also feels softer and smoother (without losing any of the durability)
It's not coated in plastic: we removed the polyurethane coating from the exterior of the fabric—this small change will create a big impact.
It is better for the planet. A lengthy supply chain with lots of energy, water, and transportation was boiled down (pun intended) to a much cleaner and less energy-intensive process.
It's available NOW for custom product orders! Do you want to be part of the win-win-win and up your sustainability game with swag that gives back?

1% of sales are donated

to environmental organizations cleaning up the mess we've already made.

We'll be rolling out this new fabric over the next couple of years into the products you find at retail locations. Yes, years. Supply chains don't move quickly, and we're against creating waste by ditching our old fabrics as scrap and making them someone else's problem. There's nothing wrong with what we've always done; we've just realized we can do a whole lot better, and so that's what we're going to do.

This story wouldn't be complete without highlighting the partner making it all possible. We worked hard during the dark days of pandemic lockdowns to create a new relationship and build A Little Bit Better Partnership.
Finding the best fabric was a long journey that went beyond just selecting a swatch in a fabric book—it involved site visits, in-depth conversations, reviewing life cycle assessments, and a fair amount of education on our side. With a goal to have 100% of our products produced with recycled content or renewable materials by 2030, we knew a strong partner was going to be key to our fabric future. 
Enter Baichuan Resources Recycling. We sourced fabrics through Baichuan about a decade ago, until our business shifted and we transitioned to a new vendor with their own relationships. When researching recycled content certifications, we stumbled back upon Baichuan and felt instant alignment with their vision for sustainability. Their transparency and willingness to work with us to continue to push the boundaries of making things just a little bit better are going to bring exciting improvements in the future. 
Baichuan has invested in two key areas that make them a great partner for us: 
They have brought the majority of the certified recycled PET fabric supply chain in-house. They collect and clean plastic bottles and crush them into recycled pellets, which are then spun into a thread that can be woven into reusable, sustainable fabrics and materials. This vertically integrated operation allows high-quality standards, eliminates the transportation of goods from one factory to the next, and reduces costs.

Dope dyeing. Dope what? Let us explain. Traditional dyeing of polyester happens after it has been woven into fabric. This requires really hot water and dye. It is messy, creates a significant level of wastewater, and is resource intensive. Dope dyeing, or solution dyeing, flips that on its head a bit. After the bottles are crushed into pellets, they are dyed. Those dyed pellets are then turned into the thread that is woven into fabric—no need for dyeing once it is woven. This process limits the water, energy, and chemicals necessary to make colored fabrics, but doesn't impact quality.
Why does this matter? When you compare a virgin polyester dyed product (like our Original Tote) with a recycled polyester dope-dyed product, you reduce approximately 63% of carbon dioxide equivalent emissions, save approximately 89% of water consumption, and reduce energy consumption by 60%. Those are drastic savings.
Check out the difference between the way we've always done things and the opportunities to be so much better by making this change. We have a long journey ahead of us, but we're now on a path we can feel good about. 
We invite you to join us along the journey to being a #little bit better.